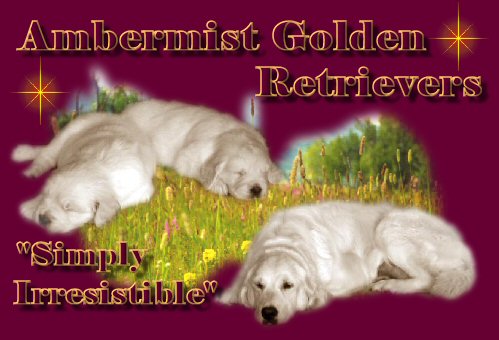 Ambermist Ole Ole (AI)
"Odette"
Date of Birth : 30/04/2008
Breeder : Ambermist Kennels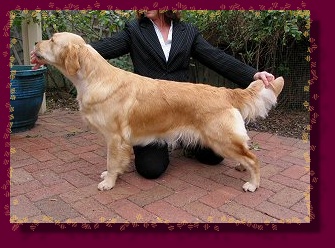 "Odette" at 13 months of age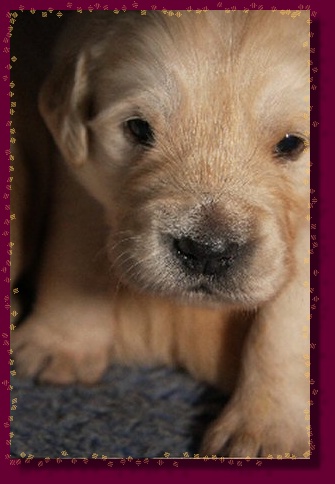 "Odette" at 2 1/2 weeks of age
(Photo by Jenni Lodge)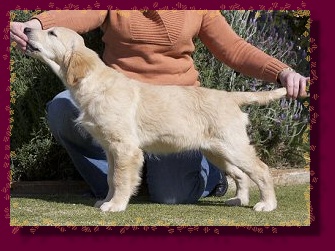 (Photo by Jenni Lodge)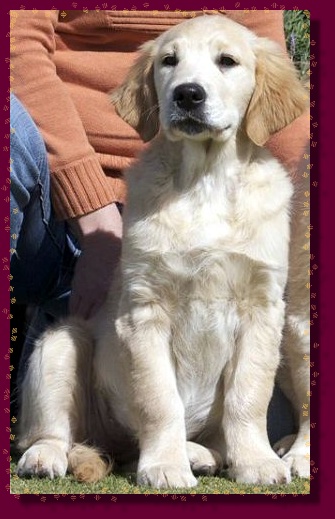 "Odette" at 14 weeks
(Photo by Jenni Lodge)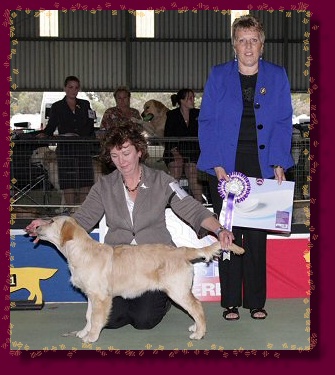 "Odette" at 4 1/2 months

Best Baby Puppy in Show at the Golden Retriever Club of Western Australia, September 2008. Judge: Mrs G Hewitson ("Seruila", UK)
Critique: "Well balanced, so pretty, lovely dark pigment, excellent neck and shoulders, good bone, lovely top-line and tail set, short coupled. Moved with ease. Just loved her."

PARENTS

GRANDPARENTS

GREAT GRANDPARENTS

GREAT GREAT GRANDPARENTS

Eng Sh Ch Ritzilyn Male Order JW (UK)

Eng Sh Ch Bramhills Blake

Eng Sh Ch Erinderry Diamond Edge of Glenavis

Eng/Irish Ch Papeta Philosopher

Irish Sh Ch Erinderry Amber of Tyrol

Bramhills Crysantha

Gunhills Star Voyager to BramhillJW, SGWC
Bramhills Pasque Flower

Ritzilyn Dyna Might

Eng Sh Ch Ritzilyn Brandon

Eng Sh Ch Perrimay Hugo of Fenwood
Eng Sh Ch Ritzilyn Stage Door Jenny

Ritzilyn Chickadee for Straland

Eng Sh Ch Kimwhany O'Rourke of Ritzilyn
Eng Ch Ritzilyn Flibbertigibbet

Ch Ambermist Grace in Motion

Eng & Aust Ch Stanroph Shogun

Eng Sh Ch Airene Pacifique

Eng Sh Ch Stanroph Soldier Boy
Amirene Integrity

Stanroph Shere Fantasy

Rossbourne Trooper
Stanroph Silent Tears KCJW

Ch Ambermist Im Irresistable

Grand Ch Chaleur Acclaim to Fame

Aust Ch Eng Sh Ch Tasvane Charles Henry (Imp UK)
Aust Grand Ch Ralun Stop N Stare

Ambermist Coco Chanel

Aust Ch Ralun Pheonix
Kalinda Irish Mist CD (Imp NZ)

This site is best viewed with Internet Explorer v 6.0 or above and viewed with a resolution of 800 x 600 dpi
You may not copy, reproduce, or distribute Ambermist Golden Retrievers site design or content,
including text, graphics, or HTML, in any form without our written consent.
This page was last edited :
25 July 2019