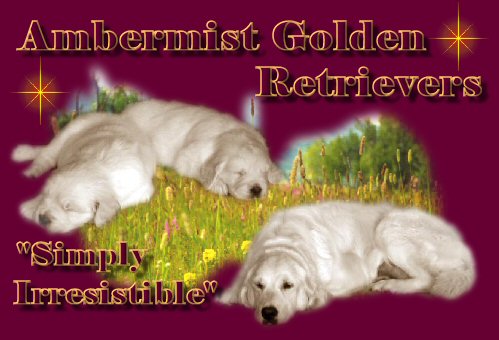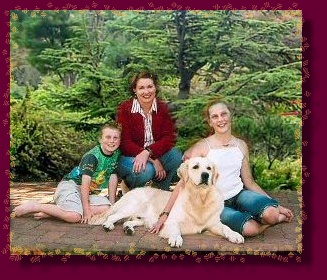 "Harry" and the Turner Family
Growing up in my family almost always included the companionship of a dog of some description. My love of dogs was shared by my mother and sister and supported and tolerated by my father and brothers.
Nowadays, this passion for dogs is still strong and seems to have been inherited by my daughter, Caitlyn; while my son Aidan displays his own brand of "gentleness" to the dogs. Thankfully I am supported by the kind nature and tolerance of my family and friends.

Our sweet Caitlyn


Aidan gently plants a kiss on
a week old puppy - the puppy
survived his affection!
In 1983 I accepted a work contract that required me to move to the north island of New Zealand and it was there that I was introduced to "Moose". Moose was a good friend's beautiful Golden Retriever bitch. I developed a great admiration of the loving nature and beauty of this bitch and it was because of Moose that I fell in love with the breed. Needless to say, I was keen to have my own Golden Retriever.

Uninformed and naïve about the correct way to buy a pedigreed dog, I immediately turned to the kennel from where Moose hailed. Luck was on my side as the kennel was reputable and I was therefore fortunate to bring home "Taylor" (Sandlewood Bramble Burr QC CD (Imp NZ)). Taylor grew to be my loyal and constant companion and his uncanny intelligence, biddability, devotion and great spirit ensured that my association with the Golden Retriever breed was guaranteed.
Regardless of being handicapped by my lack of knowledge and experience in showing, Taylor was rewarded with some success in the ring. These small successes provided the incentive for me to continue with the challenge of showing.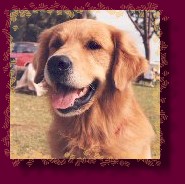 "Taylor"
When my contract in New Zealand ended, I returned to Perth not only with Taylor but with "Bailey" (Kalinda Irish Mist CD (Imp NZ)), a bitch that was purchased from bloodlines that I greatly admired for their type, quality and soundness.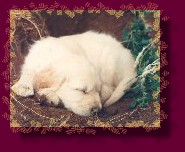 "Bailey" (7 weeks) takes a
break from "gardening"
Bailey provided a sound foundation for Ambermist and her line continues today through all Ambermist Golden Retrievers.
Along the way I have selectively introduced bloodlines from top Australian and UK kennels, always with the aim of producing the best possible Golden Retrievers. The infusion of these bloodlines has strengthened the Ambermist breeding and resulted in considerable success in the show ring.
Due to work commitments and more importantly the priority of family, only a small number of litters have been bred. However, I am proud that these litters have produced several Show Champions, Obedience winners and above all trusted family companions.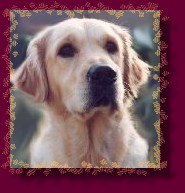 "Bailey"
The occasional litter is bred from parents that are eye and heart tested, hip and elbow scored and always with the aim that we retain our consistent type, superb temperament and quality.

This site is best viewed with Internet Explorer v 6.0 or above and viewed with a resolution of 800 x 600 dpi
You may not copy, reproduce, or distribute Ambermist Golden Retrievers site design or content,
including text, graphics, or HTML, in any form without our written consent.
This page was last edited :
25 July 2019